Canadian Retail Forecast for 2019: Slower Growth and Challenges with Opportunity
Industry experts are predicting that the remainder of 2019 could be a challenging one for some retailers in Canada, though there are also opportunities for exceptional brands in various markets. There's been a slight slowing in international retailers entering the country by opening stores over the past year, and landlords say that it's become more challenging to lease retail space, with cannabis companies being a notable exception. Several recent bankruptcies and store closures in Canada also have some concerned, though there are opportunities for success if retailers address the new reality.
In 2018, about 30 international brands entered Canada by opening their first stores. That was down from the 50+ that entered the country in 2017, which was a record. There's uncertainty in the world as events unfold with international trade disagreements, geopolitical tensions, technological challenges, and increased labour shortages — that's on top of an already slowing economy. Some retailers are taking a moment to reflect on what's happening, and where the industry is headed, though we continue to see international brands enter the market with more announcements to come.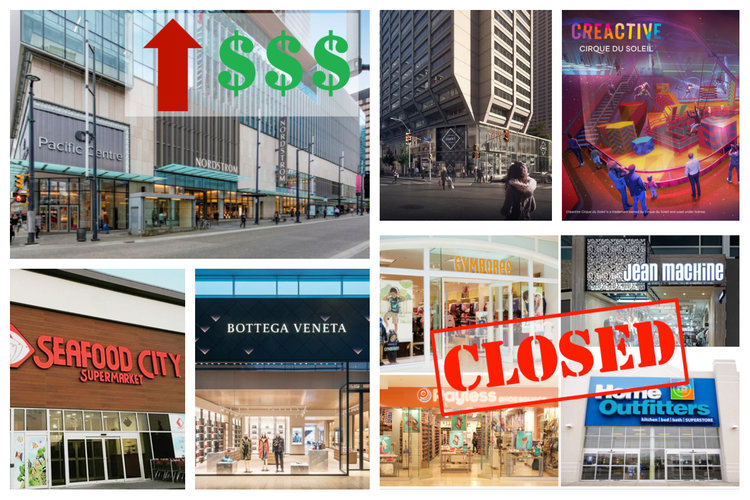 Store Closures: We got off to a rocky start in January and February of 2019 when several major chains filed for bankruptcy and announced that they were closing stores. That's not unusual in the industry, as companies evaluate their overall operations after the busy December holiday season. US chains such as Gymboree announced that they were closing all stores in Canada, with Lowe's also announcing that it was closing 27 Rona locations. Crabtree & Evelyn has shuttered almost all stores worldwide, including Canadian units. Canada's Town Shoes chain closed its final stores in January, and Jean Machine shuttered its remaining storefronts. Reitmans athletic brand Hyba will no longer have standalone stores (the line will be available at Reitmans stores). Other chains such as J. Crew have been closing stores across the country with an uncertain future, and smaller local operators such as Enda B in Vancouver have recently closed up shop as well.
February saw more store closure announcements. That includes Payless ShoeSource, which will close all 248 Canadian stores as well as about 2,300 in the United States. Hudson's Bay's home furnishings chain Home Outfitters also announced that it would close all 37 stores, which means there will be a considerable amount of retail space to fill.
Source: Retail Insider